The Basics Of Aircraft Maintenance
Proper aircraft maintenance is essential for keeping aircraft and aircraft parts in optimal condition, and ensuring the safety of pilots, crew, and passengers.
Repair stations and maintenance technicians perform maintenance and inspections on aircraft. The Federal Aviation Administration is responsible for certifying the repair stations and aircraft maintenance technicians (AMTs).
Repair stations are certified under FAR Part 145. AMTs are certified under FAR Part 65.
FAR Part 43 details the standards regarding the maintenance, preventative maintenance, and alterations of aircraft and aircraft articles and systems.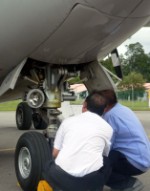 The European Aviation Safety Agency (EASA) is responsible for certifying repair stations in the European Union and member states.
AMTs maintain specific areas of aircraft depending on their certification and rating.
The different aircraft ratings are airframe (the aircraft body, such as the tail, fuselage, wings, and landing gear), power plant (engines and propellers), and avionics (electrical systems and instruments).
Most AMTs hold a dual airframe and powerplant FAA certification, and are referred to as A&P mechanics.
Maintenance Of Aircraft and the Aviation Maintenance Technician (AMT)
Maintenance of aircraft is a comprehensive, ongoing process. The entire aircraft needs to be examined, maintained, and have the necessary parts replaced to uphold the safety standards mandated by the FAA.
Aircraft are required to be maintained after a certain period of calender time or flight hours or flight cycles.
Also, some aircraft articles have a specific life (flight cycle) limit, and need to be replaced immediately upon reaching the maximum use requirements.
Besides the aircraft articles that are due for replacement, all other parts need to be checked for faults or faulty performance.
Because of the noise of testing different systems, working long hours, and the expectations of maintaining high safety standards, being an AMT can be a stressful job.
Here are just some of the routine maintenance tasks performed by an AMT:
cleaning aircraft and components
application of corrosion prevention compound
lubricating parts
draining and trouble shooting fuel systems
checking and servicing hydraulics and pneumatic sytems
replacing components
inspecting for general wear and tear
A newer field of aircraft maintenance is working in avionics, which deals with electronic systems. These parts are vital for navigation and communications, and include radar, instruments, computer systems, radio communications, and global positions systems (GPS).
A strong knowledge of wiring and technical skills is required for working in avionics maintenance

For more information and updates regarding aircraft maintenance, sign-up for our free Newsletter.