The Importance of the Federal Aviation Administration
The Federal Aviation Administration (FAA) is the governing body for all aspects of civil aviation in the U.S. Their most important responsibility is issuing and enforcing civil aviation safety standards.
The Civil Aeronautics Authority that was established in 1938 was renamed the FAA in 1958. At that time it was called the Federal Aviation Agency. The current name was adopted when the agency joined the U.S. Department of Transportation in 1967.
Today, the FAA runs numerous programs that contribute to maintaining civil aviation safety.
Those programs include:
air traffic control systems for both civil and military aircraft,
operating navigational aids,
licensing pilots and maintenance technicians,
certifying aircraft,
establishing airways, and
developing the National Airspace System and new aviation technology.
Federal Aviation Administration Roles
The safety regulations and minimum standards mandated by the FAA apply to all manufacturing, operations, and maintenance of aircraft. The FAA also certifies airports, pilots, and aircraft maintenance technicians.
The FAA is dedicated to keeping airspaces safe and navigable. They establish air traffic rules and develop systems to monitor air traffic and assign the use of airspace.
These systems include airport towers, air route traffic control centers, and flight service stations.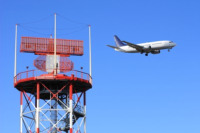 Safe aircraft navigation depends on a network of visual and electronic aids. The FAA operates and maintains these navigational aids, including: voice/data communications equipment, radar facilities, computer systems, and visual display equipment at flight service stations.
The FAA is also involved in civil aviation abroad, promoting aviation safety and proper training. This consists of certifying foreign repair stations, airmen, mechanics, and technicians. The FAA actively takes part in international conferences, negotiates bilateral agreements, and exchanges aviation information with foreign countries and authorities.
Maintaining aviation safety is an ongoing process, which is why the FAA is constantly researching and developing new systems, procedures, and equipment.
New programs consider all aspects of aviation safety, such as evaluating environmental impact of aircraft. New equipment research includes designing safer aircraft, engines, and materials. Navigational systems and aids are always being evaluated for efficiency and safety.
The Federal Aviation Administration And You
If you work in the civil aviation industry, your licenses and certifications will be administered by the FAA. All pilots, aircraft maintenance technicians, repair stations, training schools and others need to understand and comply with the safety standards set forth by the FAA.
If you don't follow proper operating procedures, the FAA also has the authority to suspend and revoke airmen licenses and certificates.
The FAA periodically inspects airports and airmen without notice. The best way to avoid negative repercussions, both in your safety and career, is to study and follow the FAA rules and regulations.

Learn more about aircraft certification by the Federal Aviation Administration on our sister site.