Aircraft Mechanics - An Important Role
When I became a mechanic back in 1976, we were called aircraft mechanics. Now the term used in the U.S. is aircraft maintenance technicians (AMT). In Europe under EASA rules they are called aircraft engineers.
What ever you call them, they are an important piece in the aviation safety puzzle. They are responsible for maintaining the aircraft safety standards mandated by the Federal Aviation Administration (FAA) and European Aviation Safety Agency (EASA).
Major aircraft manufacturers are predicting a need for thousands of aircraft maintenance technicians each year over the next several years as more and more airplanes are produced.
Depending on their area of specialization, mechanics perform inspections, maintenance, structural repairs, and alterations on a variety of different aviation articles. The primary specialties are airframe, powerplant (engines), and avionics.
Airframe mechanics perform maintenance on airframe components, including the wings, fuselage, tail section, and landing gear. They are not allowed to work on engines unless they are being supervised by a certficated and properly rated person.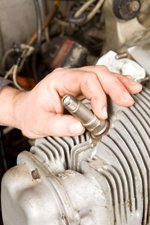 Powerplant mechanics have the authority to service and maintain aircraft engines but are not allowed to work on airframe components unless they are being supervised by a certficated and properly rated person.
Most mechanics in the U.S. are certified for both airframe and powerplant. Their approval is in the form of a mechanics certificate with an airframe and powerplant rating (A&P).
Avionics technicians require specialized training to peform maintenance on aircraft radios, instruments and computer systems, including radar, radio communications, and autopilot systems.
They are usually employed by certificated repair stations who are authorized to perform maintenance on aircraft avionics. The demand for skilled avionics techicians is rising as aircraft are increasingly being fitted with state of the art instrumentation, computers and navigation equipment.
Aircraft mechanics work in hangars operated by airlines, flight schools, corporations, repair stations or maintenance repair and overhaul facilities (MRO), and often times on the ramp where airplanes are parked.
Typically, schedules consist of 40-hour work weeks and 8-hour work days. Because planes need constant servicing, mechanics can work night and weekend shifts as well as overtime hours.
Mechanics need to work fast and efficiently, in order to adhere to high safety standards and meet demanding flight schedules. They can be subject to high noise levels and strenuous physical work.
Human factors in aircraft maintenance has become a much talked about issue. We will have more information on that topic in another section of this website.
Certification And Training
While you do not need a license to be an aircraft mechanic, getting certified is highly recommended. Non-licensed mechanics can only work under supervision and cannot approve aviation articles for return to service.
Prior to taking the FAA certification exams, you need a certain amount of training and experience. The amount of time depends on whether you attend a school for mechanics or receive on-the-job training.
The fastest way to receive an FAA certification is through one of the FAR part 147 Aviation Maintenance Technician Schools - there are around 200 of these schools throughout the U.S.
The courses take 12-24 months to complete, and graduates generally have a higher starting salary then mechanics who are licensed through on-the-job training.
If you live in Europe, there are many schools where you can train and qualify to become an aircraft engineer under the rules of EASA. We'll have more specifics about EASA certification posted soon.
Aircraft mechanics who work at a FAA repair station can apply that experience towards a FAA certification.
To qualify as a airframe mechanic or a power-plant mechanic, you need 18 months of supervised working experience.
To apply for a combined airframe and power-plant mechanics certificate, you need a total of 30 months work experience.
On-the-job-training also applies to military personnel who worked in aircraft maintenance. The FAA only gives credit for actual work experience, not training, so proper documentation is required, containing total hours logged and the types of planes worked on.
The FAA certification exam includes a written test and an oral and practical test.
There are three written tests covering General, Airframe, and Powerplant topics. The test for each mechanic specialty, including a general section and either airframe or powerplant rating, takes approximately 8 hours to complete.
Click here to download a copy of the Aviation Mechanic General, Airframe, and Powerplant Knowledge Test Guide FAA-G-8082-3.
There are five advisory circulars (AC's) that provide the knowledge required to be an aircraft mechanic:
FAA-H-8083-30 - Aviation Maintenance Technician – General Handbook


FAA-H-8083-31 - Aviation Maintenance Technician – Airframe Handbook Vol 1 and 2


FAA-H-8083-32 - Aviation Maintenance Technician – Powerplant Handbook


AC 43.13-1B - Acceptable Methods, Techniques, and Practices - Aircraft Inspection and Repair


AC 43.13-2B - Acceptable Methods, Techniques, and Practices – Aircraft Alterations
Join our free members area to access online versions of these documents now.


From "Aircraft Mechanics - An Important Role" to the Homepage